Join the Send-Off Parade!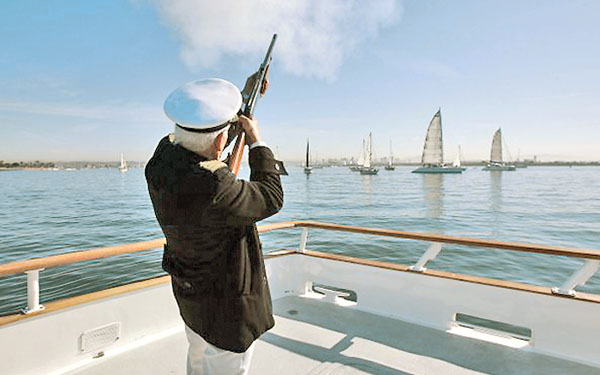 We're encouraging San Diego sailors to join us for the annual send-off of southbound cruisers who are departing in the Baja Ha-Ha.
Who: All San Diego Bay Boaters
When: Monday, October 29, 2018
Schedule:
9:00 a.m.-9:30 a.m. - South Bay boats pass San Diego en route to Harbor Island.
9:45 a.m. - All boats gather off America's Cup Harbor between Harbor Island and Shelter Island.
10:00 a.m. - All boats parade past southwest corner of Shelter Island past the San Diego fireboat.
11:00 a.m. - America's Cup starting gun salutes Baja Ha-Ha XXV.
What: Bring your boat, fly some flags, sound a horn and help the San Diego Port Tenants Association and Sportfishing Association of Southern California give Baja Ha-Ha XXV sailors a royal send-off for their cruise to Mexico.
This is an opportunity to liven up a Monday morning, get other sailors inspired for destinations beyond the horizon and bring some attention to the sailing lifestyle on San Diego Bay. If you can't get your boat out, drive out to the west end of Shelter Island with your air horn, bagpipes, Sousaphone, glockenspiel or vuvuzela.
We starting doing this in 2009 and found the Baja Ha-Ha on the front page of the San Diego Union Tribune and on the evening TV news.
Baja Ha-Ha, LLC

417 South Hill St., Suite 452
Los Angeles, CA 90013
Please note: This is a mailing address only.