News
Baja Ha-Ha XXI
October 26-November 8, 2014
Splash, Blast and Pumping 12/4/13
TIPs and Rumors About 'Seized' Boats 12/2/13
All About the Tropic of Taurus 11/25/13
Ha-Ha Sailors Need to Check Their Visas 11/18/13
From Here to Eternity, Take 20 11/11/13
Is the 20th the Best Ha-Ha? 11/8/13
Ha-Ha Fleet Hits Home Run 11/1/13
Baja Ha-Ha Update 10/30/13
Baja Ha-Ha XX Sets Sail 10/28/13
Road Trip to La Paz 10/23/13
Just a Week to the Start 10/21/13
Immigration Looks Good for Ha-Ha 10/18/13
Almost Time to Get Your Ha-Ha's Out 10/14/13
Fall Cruising Seminars 10/11/13
Good News About Paperwork 10/2/13
Looking for Land Crew 9/23/13
Yes, You Can Still Enter 9/20/13
Ha-Ha Entry Deadline Extended 9/16/13
The Joys of Extra Hands 9/4/13
The Profligate Baja Bash 9/4/13
Mexico-Only Crew List Party 8/21/13
Opportunities Out There 8/7/13
20 Years Ago October 7/31/13
Cat Rescues Six Near Cabo 7/26/13
Ha-Ha Paid Entries Nearing 100 7/17/13
How Thrifty Can You Be? 7/15/13
Off Season on the Vallarta Coast 7/3/13
The Difference in Forecasts 6/21/13
Our sponsors page has been updated for Baja Ha-Ha XX. Please support the businesses and organizations that make this event possible!
Greatest Dining Bargain in Cruising 5/13/13
Mexico's Amigo Net Migrates 5/8/13
Rush of Entries for 20th Ha-Ha 5/6/13
Ha-Ha Sign-Ups Begin Now! 5/1/13
2013 Schedule Posted 4/30/13
Dinghies for Sale or Rent 4/29/13
Strangers in the Night 4/26/13
Eleven Days from Cabo 4/5/13
Flying Dragon Grounded 4/3/13
See Us at Strictly Sail Pacific 4/1/13
Mariners Save Duct Tape 3/20/13
Cruiser Suicide? 3/11/13
Boarding at Caleta de Campos 3/4/13
Moontide Crew Robbed 2/20/13
Best Deals in Mexico 2/1/13
Sunrises, Missing Dinks & Snakes 1/25/13
Ban Whales from Banderas Bay? 1/21/13
Good Tip for Mexico 1/21/13
Founded in 1994 by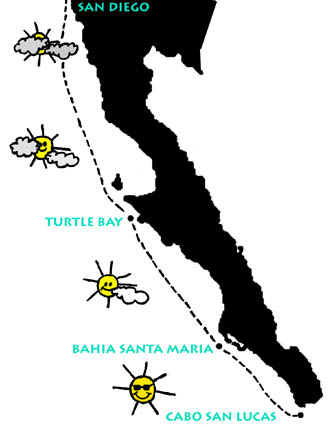 What is it?
The Baja Ha-Ha is a two-week cruisers rally from San Diego to Cabo San Lucas, Mexico, which takes place every fall. Dates for the 2013 event are October 27-November 9. See important dates for the schedule. For answers to frequently asked questions, see our About the Ha-Ha page.